Designer Karl Lagerfeld has been criticised by environmentalists after reportedly chopping down several old oak and poplar trees for his Chanel catwalk show.
Campaigners said the grand couturier's attempt to present Chanel's green credentials had badly backfired and revealed the fashion house was "completely divorced from the reality of protecting nature".
The celebrated German fashion guru turned the vast glass nave of Paris's Grand Palais into an autumn forest for the event, strewing dead leaves, moss and logs on a mirrored runway and planting nine tall trees inside.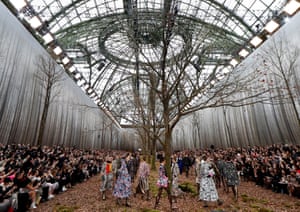 Guests, including British stars Keira Knightley and Lily Allen, and former French first lady Carla Bruni Sarkozy, were installed on rows of wooden benches to watch the models walking down what appeared to be country lanes.
The France Nature Environment (FNE) federation of ecology groups condemned Chanel for the show, accusing it of "heresy".
"Chanel has missed the point once again. The celebrated fashion house chose to present a 'natural' decor with real trees for its haute couture event. The result: trees, some of them a hundred years old, were chopped down for a few hours of show," it said in a statement.
"Promoting the diversity of French forests? An invitation to return to nature? A willingness to show itself to be an eco-responsible label? Whatever Chanel's motivations, they failed. Nature isn't about trees cut down in a forest, transported by lorry for scenery they sent to the rubbish skip," FNE added.
"It would have been better, indeed innovatory, to set up the catwalk in the forest itself, rather than cut down trees to bring [them] to Paris."
Chanel said none of the trees cut from a forest in western France and brought to the capital for its autumn-winter prêt-à-porter 2018-2019 show had been a century old. They had been authorised for cutting, it said, adding: "In acquiring the trees, Chanel agreed to replant an area of 100 new oaks in the heart of the forest."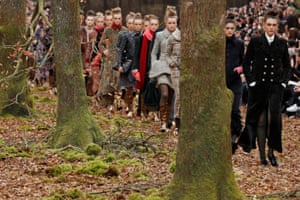 Fashion critics hailed the set a success; the influential Harper's Bazaar said "the runway may be the best yet" from Lagerfeld, 85, praising the "life-like forest … that seemed to extend infinitely".
FNE published pictures of tree stumps in what it described as the "disenchanted forest" on Twitter. The group concluded that it may not have any style lessons to offer Chanel but added: "we do have much to teach it on what ethical, durable and responsible fashion means and even on how the forest and living trees should inspire us".
Source link